Photographer, Filmmaker, Writer, Presenter
Jessie Leong is a Sheffield-based adventure photographer, award winning filmmaker, writer and presenter with a passion for climbing, mountaineering and outdoor inspiration. Placing people at the heart of the narrative, Jessie's obsession with the outdoors comes through in all her work, and about making her subjects feel at ease, whether they're scaling a mountain summit or exploring the valley bottom. . She is focused on the importance of storytelling and proud to provide support and elevate the narrative of communities that are underrepresented in the outdoors.
Capturing the 'off camera' moments shown by her subjects is just as much about observation of her subjects, whether it's noticing their personal connection to the environment, as well as capturing the 'harder faster, stronger' aspects with various pro athletes.
Her most recent film, 'The Last Forgotten Art' about crack climbing in the Peak District, won the highly sought 'People's Choice Award' at Kendal Mountain Film Festival, whilst 'I am a Fellrunner' and 'Banana Skin' have collected a number of awards including Judge's Special Mention award.
Coming from a diasporic culture where the outdoors hadn't necessarily been an important focus, Jessie found the connection to the outdoors as a young adult. She's expanded her climbing confidence and experience to take on bigger multipitch walls and has experienced a range of climbing adventures, from scaling remote sea cliffs to ticking off various Alpine 4000ers.
When she's not exploring the high frequency moments of being in the mountains she can also be found tapping into some much need ying time, doing outdoor open water swimming.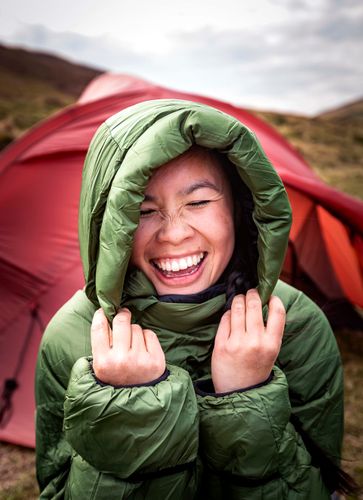 Testimonials
Brands I've Worked With